Coffee roasters & all day eatery
Whether you are after a big breakfast in Baan Tai, Thong Sala or Haad Yao. Or indulge yourself in all the coffees we have to offer in all of our three venues. All locations are open daily. 
Menu items include organic produces like free range eggs, grass fed milk and breads by local artisan baker. We set out daily to create the finest brunch experience on Koh Phangan.
Bubba's Coffee Baan Tai 7am -  6pm
Bubba's Coffee Thong Sala 7am -  6pm
Bubba's Coffee & Roastery Haad Yao 7am - 6pm
Training and assistance
Besides being purveyors of delicious breakfasts, we are coffee fanatics and take our passion very seriously. We set out to share our enthusiasm with tourists, locals, other businesses on Koh Phangan. Bubba's strives to introduce people to the unique coffee flavours of Thailand and beyond.
We supply, train and assist other in their quest to good coffee. Using high quality roasting equipment and advanced profiling software, we ensure consistent quality day in and out.
Interested in learning more? Reach out to us today. 
Bubba's Coffee Thong Sala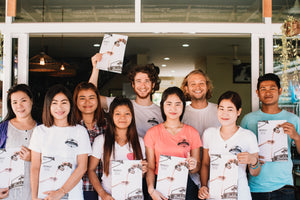 Bubba's Coffee Baan Tai
Creating exciting breakfast experiences for Koh Phangan since 2015, Bubba's Coffee offers an extended all day-brunch / dining menu with the best coffees direct from our roastery.
Bubba's Coffee Baan Tai offers vegan and vegetarian friendly breakfast, lunch and dining options, all served with passion in our newly renovated and extended cafe located centrally in Koh Phangan. 
Our cool air-conditioned cafe boosts fast wi-fi, free drinking water and community feel that welcomes traveller, expat and coffee aficionados alike.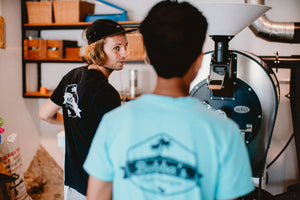 Bubba's Roastery Haad Yao
Bubba's Roastery opened its doors early 2018 with the vision of making Thai specialty coffee easily accessible for everyone.
Besides featuring high quality coffees from coffee growing regions like Chiang Mai, Chiang Rai and Tak provinces, our roastery also boosts an all day breakfast and brunch cafe.
Our breakfast and lunch dishes are available daily from 7am till 5pm, roasting and coffee classes are scheduled and promoted on social media.
Coffee and brunch Koh Phangnan.
At Bubba's coffee we go straight to the source. 
Bubba's Coffee works closely with coffee farms in Chiang Mai, Chiang Rai and Tak provinces where we deal with farmers and processing stations directly. Our focus is to build ongoing relationships and support the people and families involved in the process. Our roastery offerings include high grade Thailand speciality coffee as well as occasional guest coffees from Africa or central America. 
Both Bubba's Coffee Baan Tai and Bubba's Roastery Haad Yao are open daily from 7am in the morning. Here is, where our ethically sourced ingredients, passionate suppliers and dedicated team come together. Our menu includes, free range eggs & chicken by local farm, artisan meats by Sloane's, grass fed organic yoghurt & milk and daily baked sourdough breads from French bakery La Boulangerie.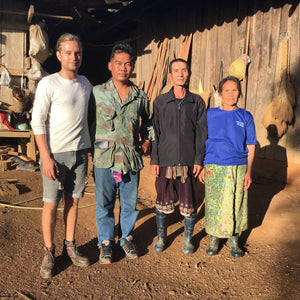 Tha Song Yang, Tak
Tha Song Yang district in Tak province is located close to the more known coffee region Omkoi. Tha Song Yang...
Learn more
Koh Phangan
The moon sets the Ryhtem of Koh Phangan. A bustling island full of dancing tourist during the full moon, a reason to ( or not to ) visit the island during those days.
as full moon passes, another Koh Phangan reveals itself.
Empty beaches, green hills, exuberant nature. Soak in silence at a waterfall, hear the sounds of the jungle, the murmur of the palm trees, the waves that gently caress the shore.
Be warmed by the colours of the sunset, count the stars in the sky, feel the sand between your toes. Embrace live. Welcome to our home, Koh Phangan.